Windside wind turbine is made for professional use but is found also by artist, architects, and designers all over the world.
You can find Windside turbines in mountains thousands of meters above sea level; on glaciers; on coastlines; on deep sea and marine navigation systems; in deserts, and in remote rural areas.
– But also in densely populated urban areas!
You will find tens of examples described on these pages. Take your time and enjoy!
Ask for more information: Leila(at)windside.com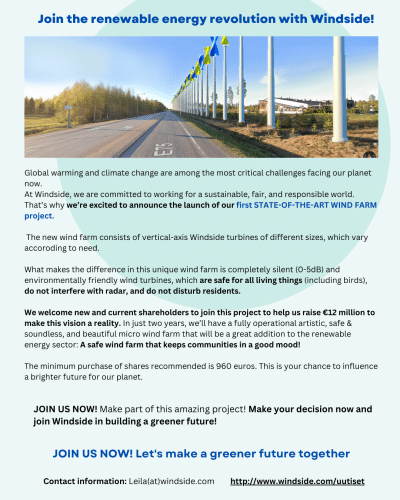 Windside wind turbines are designed for performance, reliability, & safety in extreme wind conditions up to 60 m/s (216 km/h), and all weather conditions.
Features include:
2-5 m/s cut-in wind speed
Up to 60 m/s max wind speed
50+ year lifespan
5-yr maintenance-free (optional)
Soundless Operation
No vibration
Graceful rotation
Windside is mainly used for charging 12/24/48VDC battery banks and loading DC/AC inverters e.g. for 110/230VAC output.
Hybrid-compatible allows integration of solar or other energy sources.
10-Year Warranty &
Upgrade Exchange Credit
The only micro-turbine manufacturer in the world to offer a warranty this long and an exchange upgrade credit. Read more here.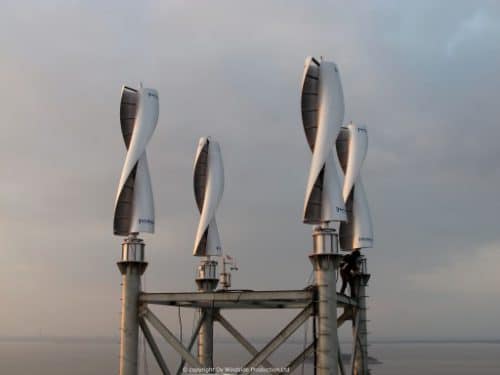 Clean renewable energy for remote or difficult-to-access areas/zones. Includes offshore buoys & structures, islands, the Arctic/Antarctica, mountains, ecologically sensitive areas, national parks, border regions, etc. Read more here.
Building mounted or integrated. Achieve green/eco-building renewable-energy targets.  Retro-fit old buildings or clean-sheet design fully-integrated systems into new buildings such as the 309 m-tall Pearl River Tower. Read more here.
LED outdoor lighting power systems including street, park, & security lights. Read more here.
Hybrid energy towers for rural or urban micro-grid, telecom, or artistic urban wind turbine towers. Read more here.
LED indoor light & DC power systems for residential, second/holiday homes, or common areas of multi-unit apartment buildings. Read more here.

New arrival WS-30
We proudly present the biggest Windside wind turbine in the company history: the majestic Windside WS-30 designed and built at Windside factory in Finland. Reaching the height of 10 meters and diameter of 3 meters, this is the first Windside wind turbine targeted at feeding the energy to the grid. The turbine has the same features as the smaller Windside wind turbines: soundless, safe, and reliable operation. Read more here. 
Quality and Reliability since 1982